A piece for the Observer newspaper this weekend, this time looking at the way the attack in Manchester fits into the broader threat picture in the UK. It was a busy period with the media around the attack with longer interviews captured online with the BBC's Daily Politics (video), National Public Radio's All Things Considered and Radio 24 (radio), as well as with Financial Times, Times, Wall Street Journal, New York Times, La Repubblica, Atlantic, AFP, Washington Post, and News Deeply.
Fighters who can't travel to Syria pose growing threat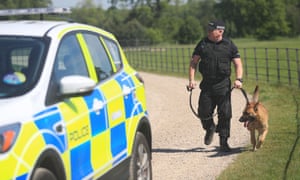 British security officials have long warned it was only a matter of time before there was another terrorist atrocity.
In late August 2014, the Joint Terrorism Analysis Centre (JTAC) raised the terror threat level to "severe" – meaning that, according to its independent assessment, the expectation was that a terrorist attack was highly likely. Responding to an increasingly menacing threat picture in Europe linked to the conflict in Syria and Iraq, that level stayed at severe until the attacks in Manchester, which caused JTAC to redo its calculations and raise it to critical – meaning an attack is imminent.
Once the level was raised to severe, there was a fairly constant pattern of terrorist plotting. In November 2015, as the world reeled from the attacks in Paris, David Cameron said seven plots had been disrupted in the UK over the previous year. At the beginning of March this year, Metropolitan Police assistant commissioner Mark Rowley said in the past four years authorities had disrupted 13 plots. In the wake of the Manchester attacks, a further five have been added to this roster.
While the details of many of these plots have not been made public, most appear to have been lone individuals or small cells planning knife attacks. It is not clear how many have involved the sort of ambitious planning that went into Paris and Brussels or even Manchester. But groups – al-Qaida, Isis or some other affiliate – continue to want to wreak misery.
The reason for the recent increase in activity is hard to pin down. In part, it may be a case of Isis being on the back foot and seeking to push out attacks in every direction: something that correlates with it losing territory and its foreign fighter contingent scattering to the wind, creating a wave of potential problems around the world. And this comes as al-Qaida has started to rear its head once again, menacing the world through new messages by Hamza bin Laden.
But there are other dynamics at play as well. One of the more under-investigated phenomena is what is happening to those aspirant foreign fighters who are unable to travel. Inspired enough to want to join a group like Isis, they find it increasingly difficult to do so – due to proactive security measures in the UK or more simply a much harder environment in Syria to get into. But being unable to travel does not remove the radical impulse. Actually it may enhance it further, with the frustration making the individual feel the link to the group more strongly.
Consequently, when the group shouts for people to launch attacks at home, rather than come to the battlefield, they may see this as a call to arms. The phenomenon of the blocked traveller maturing into a terrorist threat at home is not new, but as things become tougher it is only likely to increase the pool of potential radicals at home.
Finally, there is the exceptionally low threshold for what constitutes a terrorist attack. No longer do you have to launch a complicated plot: if you can, then all the better. But a public stabbing or running people down with a car will also suffice. Targets are open and indiscriminate, with anyone living in a non-Isis state considered fair game. This makes it very easy for anyone to pick up a weapon and become a warrior – meaning that not all of those who do are necessarily as doctrinally pure as a group might want. All of this shows how easy it is to become a terrorist these days.
It was unlikely that the terror threat level would be kept at critical for long, and it has now been reduced to severe. Exhaustion might have set in at the security agencies had it continued much longer. But the tempo of the threat picture in the UK has noticeably sharpened of late: from last year, which was punctuated by the disruption of major plots but dominated by a steady stream of smaller-scale arrests for travelling to, fundraising for, or support of terrorist groups, to this year, which has seen two attacks and at least five or six plots derailed.
It is clear that the terrorist menace is not shrinking away and is likely to linger around for some time longer, in particular if the war in Syria and Iraq continues to drag on, providing a consistently fertile ground for training camps and extremist ideologies.
Raffaello Pantucci is director of International Security Studies at the Royal United Services Institute and the author of We Love Death As You Love Life: Britain's Suburban Terrorists