Been very busy with other things of late and have entirely failed to post. As a result a short backlog has accumulated, while some bigger projects and issues elsewhere have kept me rather busy. Anyway: catching up now starting off with a piece for the South China Morning Post on China-Russia relations over events in Kazakhstan at the beginning of the year. Crazy to think how far we have come now with everyone's attention firmly on Ukraine.
Why China won't lose sleep over Russian troops in Kazakhstan
Suggestions of China-Russia rivalry for power in Central Asia miss the mark. In reality, while both are active in the region, their roles are more complementary than competitive
Russia is the de factor provider of security guarantees, while China is the economic opportunity everyone wants to tap
The outbreak of violence in Kazakhstan has awakened the question of Sino-Russian competition in Central Asia. The assertion of Russian hard power is interpreted as being an example of Moscow getting the upper hand, to Beijing's detriment.
Yet this analytical framework is unhelpful in really understanding the situation or the nature of the current China-Russia relationship. Beijing and Moscow have no reason to clash with each other over Kazakhstan. Rather, they will play the situation to their advantage and further freeze out the West from the Eurasian heartland.
China and Russia's broad interests in Kazakhstan are the same. Both want a stable country that is in their collective economic and military thrall, and ideally with looser ties to the West.
China has the upper hand in economic terms, but this is partially because Kazakhstan is rich in the raw materials needed for the Chinese economy. In contrast, Russian firms see Kazakhstan as a state in which they can ply their trade, and to which they have easier access thanks to the Eurasian Economic Union.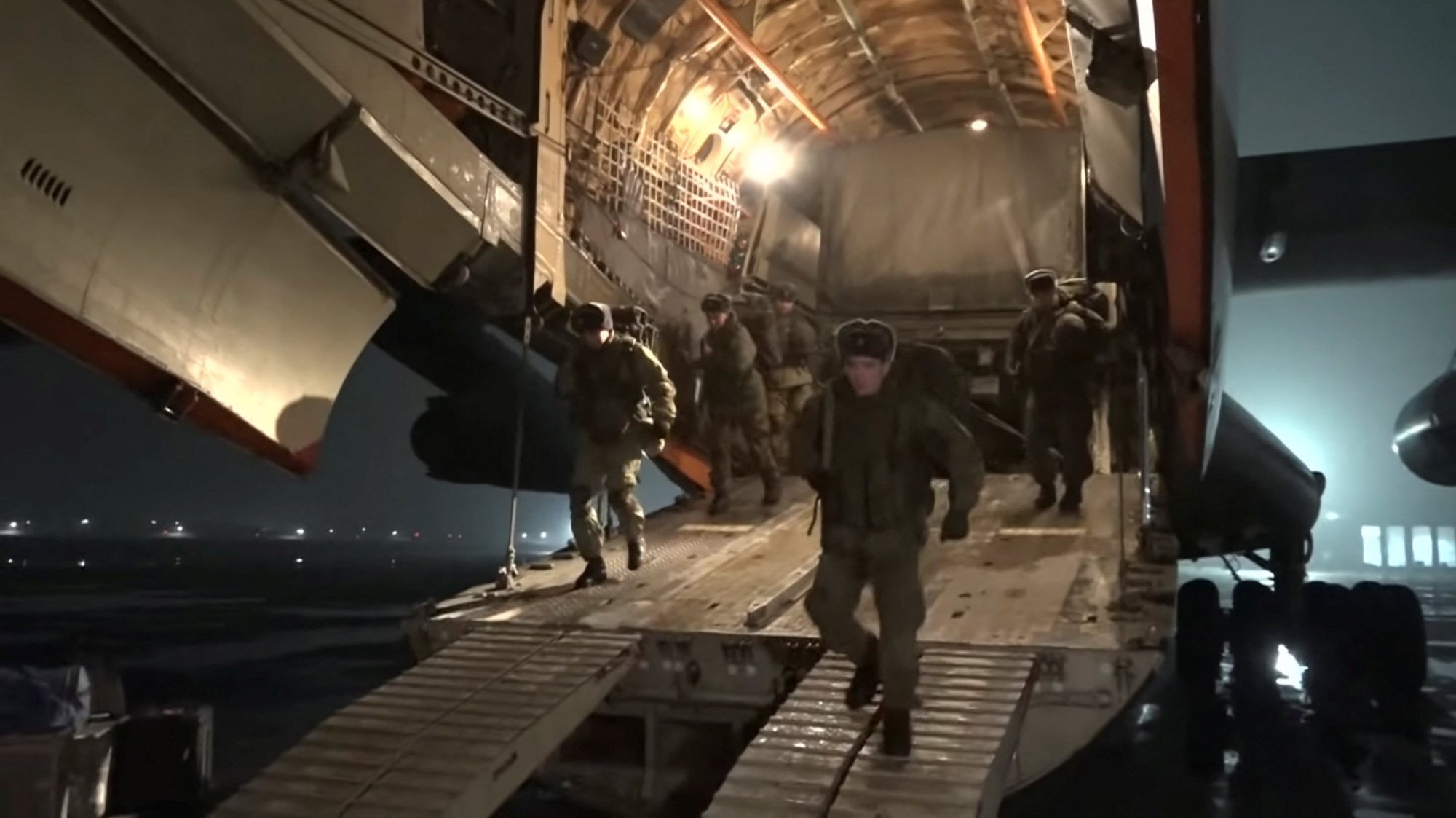 Russian service members disembark from a military aircraft as part of a peacekeeping mission from the Collective Security Treaty Organisation amid mass protests in Almaty and other Kazakh cities, at an airfield in Kazakhstan. This still image is from a video released by Russia's Defence Ministry on January 8. Photo: Handout via Reuters
In strategic security terms, Russia has long had bases in Kazakhstan. The arrival of Russian forces under a Collective Security Treaty Organisation (CSTO) banner is new – both in terms of Russian deployments in Kazakhstan and in a first for the CSTO. But it is not clear how or why this might be a challenge to China.
Beijing has not expressed an interest in deploying its forces in Kazakhstan. China and Kazakhstan have done training exercises together, but these have been limited and done either bilaterally (mostly on counterterrorism questions) or under the auspices of the Shanghai Cooperation Organisation (SCO), of which Russia is also a member.
Beijing has pressured the Kazakh government to do something about dissident networks of Uygurs, and it has in the past sought to get permission for its private security companies to operate in the country. While the Kazakh government was willing to accede to the first request, they were unwilling to let Chinese private security firms in.
None of China's activity has been about competing with Russia. China is consistently focused on its specific interests in Kazakhstan.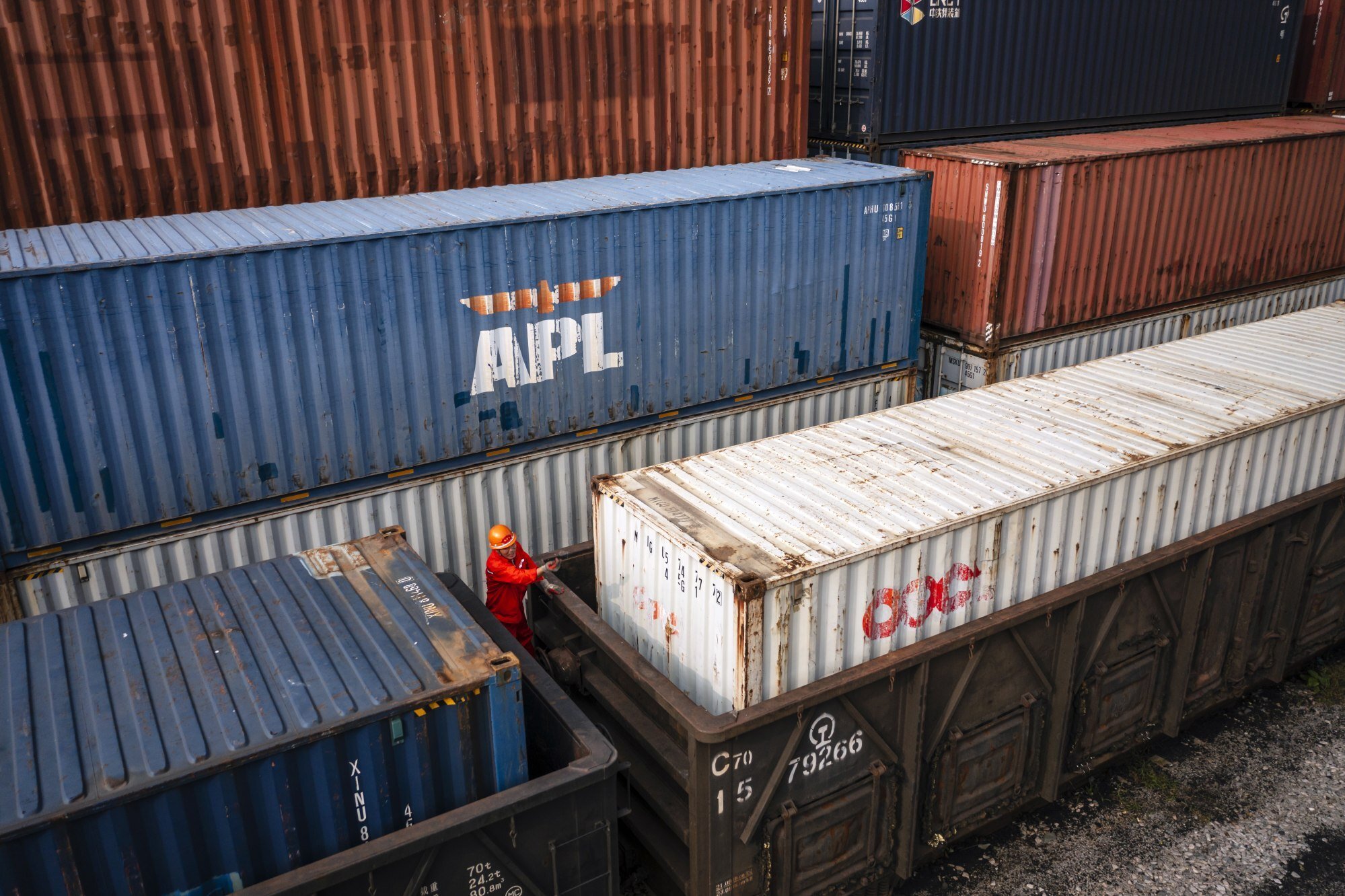 Containers are loaded onto a train to Kazakhstan in the China-Kazakhstan Logistic Base in Lianyungang, Jiangsu province, on September 17 last year. The base is an important seaport for Kazakhstan export and provides efficient transit for cargo and consumer goods from the Central Asian country. Photo: EPA-EFE
Where there was a possible overlap in competition with Russia was on military sales, with Chinese firms having sold high-end weapons to the Kazakh government, like drones, some air and missile systems, as well as technological surveillance and communications tools. It is, of course, possible that these arms sales are depriving Russian companies of contracts, but Kazakh purchasing is done on the basis of quality and price, rather than Beijing trying to edge Moscow out of Kazakhstan.
In fact, China is happiest when someone else is dealing with Central Asian security questions. In the immediate fallout from the collapse of the government in Afghanistan, it was not Chinese soldiers or weapons that were rushed to Central Asian borders, but Russian ones.
On the economic side, Russian companies are active in Central Asia, but cannot compete with their Chinese counterparts, whose appetites are on a different scale.
Similarly, the almost bottomless Chinese consumer market is something that Central Asian producers are increasingly keen to have access to. The entire economic geography of this region is being pulled towards China not because of geopolitics, but because of its sheer economic weight.
The "Silk Road economic belt" strand of the Belt and Road Initiative, which cuts through Central Asia, also ties Russia into China's wider vision of global prosperity. Consequently, Moscow has little interest in complicating it; rather, it is focused on ensuring it benefits as well.
The point being, this is not a competitive relationship. Beijing and Moscow are both active in Central Asia, but are different actors on the ground. Russia is the de facto provider of security guarantees, while China is the economic opportunity everyone (including Russia) wants to tap.
Seeing this through the lens of competition suggests that Beijing would rather be the one who is stepping in to provide security guarantees, and that Moscow is somehow going to push China out economically. There is little evidence in either capital that this goal is in play. Rather, they both seem happy to operate in parallel, playing a supportive rhetorical role and staying out of each other's way.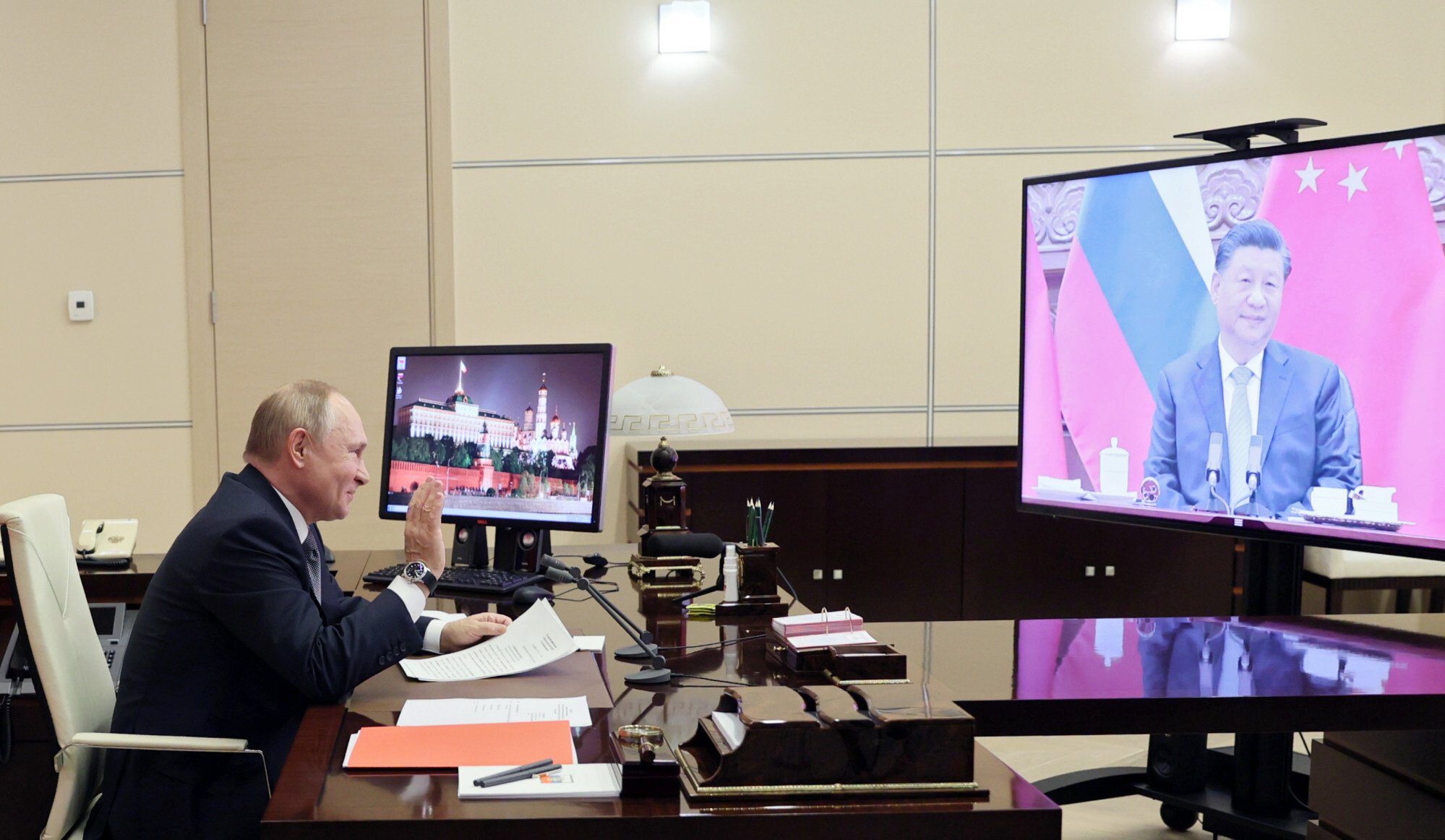 Russian President Vladimir Putin gestures during his videoconference with Chinese President Xi Jinping in Moscow on December 15 last year. Photo: Kremlin Pool Photo via AP
The question is in the medium to longer term – when China starts to worry about being dependent on Russian security guarantees.
At the moment, Beijing seems comfortable. But, at some point, this thinking may change. In many other places, China has increasingly started to try to provide its own security guarantees, and there is no reason to think this might not also take place in Central Asia.
On the other side of the coin, the tipping point for Russia is likely to be when Chinese economic investment into Central Asia starts to turn into unfettered Chinese economic influence and power in Russia directly.
But this concern appears to be receding, as Moscow seems to increasingly welcome and open up its economy to Chinese investment and connections – in large part due to tensions with the West.
But none of this is about Kazakhstan. Rather, this is about China and Russia's larger posturing and view of their respective roles in the world. Within this context, Beijing is happy if Moscow is going to play a role in tidying up what looks like an increasingly messy bout of political infighting in Kazakhstan, while Moscow is pleased to be seen as the regional security guarantor.
In contrast to many other situations involving China, this is a win-win for them both.
Raffaello Pantucci is senior associate fellow at the Royal United Services Institute (RUSI) in London