Have some catch up posting to do, starting with a piece for the Diplomat magazine that draws on a bigger project we have been doing at my institutional home, RUSI, looking at radicalisation amongst Central Asian labour migrants in Russia. The project has been quite a complicated one, and many excellent colleagues have played a role, with Mo in particular playing an important driving role on the methodology and co-authoring this piece. This piece draws out that methodology in some greater detail and the longer report should be out soon. Given it is behind a paywall, I cannot just post it all here, but get in touch if you are interested, and I can see what I can do help.
Explaining the Radicalization of Central Asian Migrants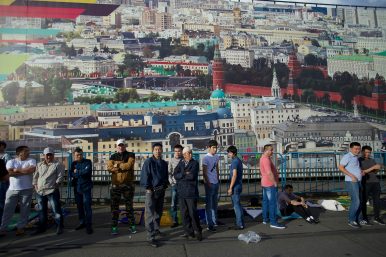 Image Credit: Associated Press, Ivan Sekretarev
Radicalization in Central Asia has been a long-standing concern. Yet, historically, violence from the region has been relatively rare. While the immediate post-Soviet period was marked by internal conflict, including the civil war in Tajikistan, these conflicts largely remained local.
This appears to be changing. The past couple of years have been marked by a noticeable increase in instances of international terrorism linked to Central Asians. A further number have shown up as foreign terrorist fighters. The New York City truck attack, the attack on a nightclub in Istanbul, a vehicle attack in Stockholm, and the bombing of the St. Petersburg metro system were all linked to Central Asians. While the exact reasons for this pattern are still being uncovered by investigators, one feature that appears common among Central Asians who end up in Syria and Iraq, at least, is a history of working as labor migrants in Russia. This provokes the following question: why do a minority of labor migrants from Kyrgyzstan, Tajikistan, and Uzbekistan leave Russia (a second country) to take part in somebody else's violent conflict (a third country)?
In order to try to address this lacuna in understanding, the authors worked with a group of researchers from Central Asia and Russia to try to understand this phenomenon through a data-rich approach driven by interviews of Central Asians working in Russia.